Oct 23 to Dec 17 

 Join us for Term 6, our exhilarating end-of-year term, and take your pole tricks and dance skills to new heights! Whether you're a seasoned pole dancer or just starting your journey, this is the perfect opportunity to challenge yourself, boost your confidence, and have a ton of fun as we look to finish off 2023 on a high note together!
Beginner-Friendly Dance & Flexibility Courses
Beginner Splits & Backbends: Starter-friendly flexibility course for legs and backs, with variations available for all levels of bendiness.
ExoChair: Beginner-friendly exotic chair dance teaching chair balancing tricks via 2 choreographed routines featuring a slinky striptease element. Bring a robe or button-up shirt to strip off!
Femme Baby: Beginner-friendly dance in heels introducing concepts of musicality and personal styling via 3 choreographed routines.
Floorplay: Beginner-friendly floorwork class focused on essential floor tricks and transitions via 2 choreographed routines.
Pole Beginner/Intermediate Tricks Clinic: Get expert help with any nemesis pole tricks you may be facing at beginner or intermediate levels!
Pole Lyrical Flow: Learn starter-friendly routines set to inspirational music, highlighting smooth and graceful floorwork moves and spins with the pole. Shoes not required.
Pole Tech: Bridging Beginner to Intermediate Tricks: Specialty bridging class focusing on tricks from beginner to intermediate levels of difficulty, such as Ankle Grabs and Laybacks, Inside/Outside Leg Hangs and basic Butterfly moves. Different moves and simple combinations will be featured each week, requests for specific trendy/troublesome tricks welcome.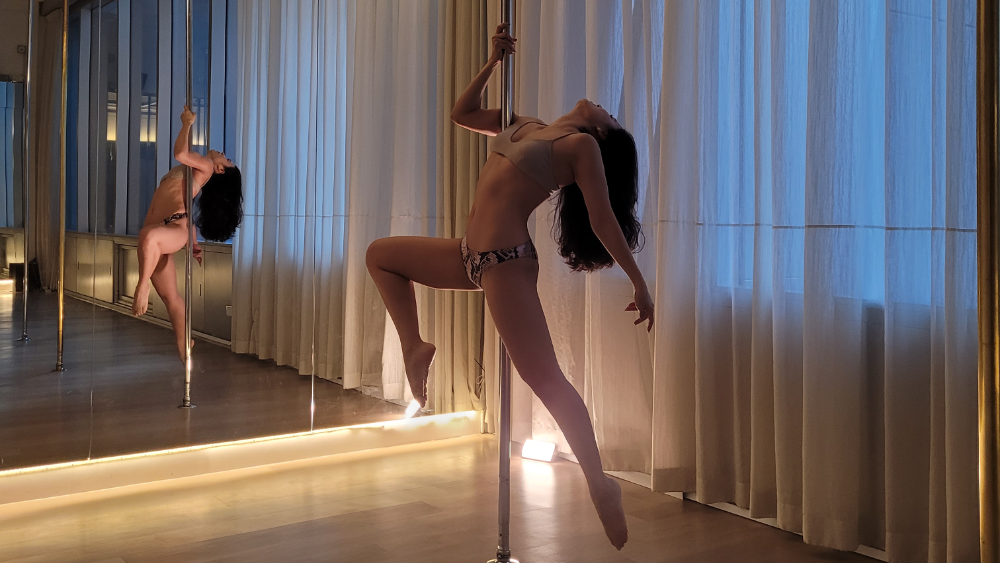 Intermediate Level Pole Tricks & Dance Courses
Baby Bendy & Splitty Pole Tricks: Able to do outside and inside leg hangs, Pole 3.5 and above. Learn a variety of upright and inverted moves in a safe space for twisty experiments with tricks!
Femme Fatales: High-octane pole dance with focus on musicality and performance via 3 choreographed routines; past experience with exotic pole dance or Femme Fatales required.
Floaty Fairy Spins: Sprinkle some love, trust and pixie dust into your fairy spin on Sunday afternoons! Every week we will learn techniques to create that effortless 'float' in your spin climbs as we incorporate gorgeous shapes, hair flicks, and tricks to turn those boring upright combos into a beautiful Instagram-worthy video! Must have confident spin climbs.
Heels: Enjoy two different styles of Heels dance this term! Weeks 1-4 will be Hardstyle on static pole mode, and Weeks 5-8 will feature a Sensual style of movement.
Pole Choreo Intermediate: Dance to 2 magically moving choreos over the term, showcasing a variety of pole tricks and combinations to the music. Must be able to do outside and inside leg hangs. Variations available!
Pole Tech: Inverts & Conditioning: Whether you are a beginner struggling to nail your very first floor invert or an expert working on your aerial inverts and shoulder mounts, this class is for you! For our newbie polers, no fret! We will break down the fundamental techniques so you can work towards those beautiful, effortless inverts. For our experienced polers, be prepared for your strength and stamina to be challenged as you begin styling your aerial inverts with flares, fankicks and more!
Pole Tech: Intermediate Tricks & Combos: Pole tricks combinations and conditioning course putting Pole Tricks 2-4 moves into combinations on both static and spinny pole modes. Expect to be able to explore a different combination every 1-2 weeks! Passed Pole 3, able to do outside and inside leg hangs.
Advanced Level Pole Tricks Courses
Advanced Bendy & Splitty Pole Tricks: Upper level pole tricks course focusing on achieving a wider range of motion through active flexibility. Expect a series of advanced pole tricks and transitions to be taught each week! This class involves moves both on the ground and on the pole. Students must be able to aerial invert and brass monkey. Pole 5 and above.
Pole Tech: Advanced Tricks & Combos: Upper level pole tricks and conditioning class for students who have passed Pole Tricks Level 5. Expect to learn challenging pole tricks and chain them into short combos each week in a supportive environment, the better to improve our stamina and expand our repertoire of aerial pole tricks.
Song List
🍒 Mini Terms are available for each song! 🍒
ExoChair Beginner Weeks 5-8
Heels Weeks 1-4 (Hardstyle Heels style)
Heels Weeks 5-8 (Sensual Heels style)
Pole Lyrical Flow Weeks 1-4
Pole Lyrical Flow Weeks 5-8
Pole Dance Choreography at Intermediate Level (1 song for the full term. Routine will be taught in two separate parts. You can join the second half of the term during Weeks 5-8 without needing to learn the first half!)